Culture Blogs
Explore the weird, winding, and wonderful ways in which we Pagan-types mark cyclic and special times, events, and celebrations in our everyday lives.
This post is one of a series examining the individual steps in Joseph Campbell's "hero's journey" model.
In the last post, we discussed how a hero may refuse her "call to destiny" and what sequence of events might follow that action.
Today we're moving on to the next step in Campbell's hero's journey model: "Supernatural Aid." Or, as is commonly expressed, "When the student is ready, a teacher appears."
And according to Campbell's model, that's absolutely true: once a hero-to-be has been called and has agreed to accept the quest, a helper/mentor appears. In classic form, the mentor is a tangible entity, human or otherwise. Imagine the ways Hicks shepherds and teaches Ripley in Aliens, the way Luke Skywalker benefits from the guidance of Obi-Wan Kenobi in Star Wars, or the hand of Mr. Giles, Watcher extraordinaire, to Slayer Buffy. These examples are easy to understand as most of us have undoubtedly benefitted from the mentoring of one or more persons along our own magickal paths, especially if we've been involved in formalized or structured training.
The mentor can also be spiritual/metaphorical. Many people surmount challenges by falling back on the guidance of a long-passed loved one or by relying on spiritual teachings that may be very old or at least well out of the bounds of modern time. Some may use pathworking, astral travel, trance work, or similar practices for discovery and guidance—and this is certainly a type of mentoring. Even reading an important written work can be part of one's guidance.
And in today's digital world, mentoring may also occur in cyberspace—via emails, online schools, social media, websites, or other venues. It's worth noting that Campbell's label of "supernatural aid" reflects his original references to ancient mythos in constructing his quest model. Today, scholars agree that these same tropes have broad application across every aspect of our modern lives and modern creative expressions (writing, film, etc.).
Although the "supernatural aid" tradition typically refers to a single mentor, heroes may have any number of mentor-guides, and they may take on different forms as they move in and out of the hero's sphere. But however many mentors a hero-to-be has, the mentors have a number of responsibilities: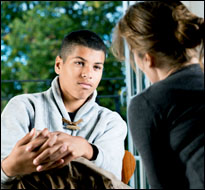 First, a mentor is challenged with teaching a skill-set to the hero in hopes the hero can surmount the challenges he'll soon face. After all, a dead hero isn't much use to anyone, and in order for the quest to succeed, the hero has to stay alive—literally or metaphorically. Most quests don't involve actual life or death scenarios—and yet to fail is, in its own way, a symbolic death, at least temporarily. To boost the hero's chances of success, the mentor helps the hero fill a "toolbox" of knowledge and skills. Once the hero begins the actual quest, he'll be on his own, and the decisions and choices he makes will be every bit as important as the sword or smart phone he carries. But the toolbox is certainly going to come in handy!
Second, the mentor helps the hero define the quest—at least as much of it is known. The mentor does this through helping the hero explore the recesses of his own mind (Why was I called? What does it mean? Who do I serve?) but also shares her own experience and wisdom in hopes it will benefit her charge. As we all know, the wisdom of others more experienced helps to a point, but most people—heroes or not—learn best through experience. Still, the mentor patiently shares first-hand wisdom in hopes it will help.
Third, the mentor assists the hero in understanding how he must grow and evolve if the quest is to be successful. The mentor may do this through counsel, through the setting of learning situations, and through constant testing and evaluation. A good mentor understands that the hero will make the journey alone,. The moment will come when the hero leaves the mentor and must strike out on his own.
Fourth, the mentor helps the hero come to terms with self-doubt and fear. By helping her find an internal place of confidence, the mentor helps the hero prepare for the road of trials with as much confidence as possible but also with a clear idea of her own skills and limitations.
Fifth, and this is very important, the wise mentor also learns from her student. Learning is always a two-way street, and each mentoring experience is an opportunity for growth on both sides of the relationship. A good mentor must leave his ego at the door and is always prepared for his own discoveries.
Let's look back…. Upon being called to destiny, the typical hero first expresses disbelief and then moves on to an initial refusal of the call. After some time, he comes to a point of cautious understanding and skeptical acceptance. It's the mentor's responsibility to help the hero move from a perspective of guarded skepticism to one of confidence and optimism. The hero must be strong, self-assured, and capable of dealing intelligently with any situation—it's the mentor's job to guide the hero to this place.
What do these ideas mean to you in your magickal life? You may be undergoing mentoring yourself—indeed, most of us find ourselves being mentored and re-mentored over and over throughout our lives, whether by a teacher, boss, parent, family member, magickal group, friend, a favorite book, etc. Or, you may be guiding someone else. Either way, consider the above discussions as you build the toolbox, develop and instill courage, and experience an awareness of both gifts and limitations. Be open to discovery—enjoy the camaraderie of the road, and recognize the responsibilities as well.
__________
Coming in the next post is an exploration of Campbell's next step: "crossing the first threshold." At this point, the hero leaves the known world behind and crosses into an unknown realm. It's about to get real, folks.
All images are my own, are taken from Creative Commons, or give credit to the owner of the image/intellectual property.
Last modified on